This diary should not be seen as the final word on this. After spending the last two days talking to legislative counsel and attorneys familiar with this matter, I think there are a lot of steps that are left to be taken. The Kansas legislation that passed this weekend still awaits the governors signature, and still faces some hurdles. The legislation, as presented (KS-HB2506) effectively combines appropriation and policy, something that is against the legislative rules of the body. As a result, there are a lot of legal minds who are working on ways to challenge some of the text within the bill.
If you are a teacher in Kansas, all I can say is: don't give up hope. You are your best advocate. The governor can still veto (unlikely) but in the end YOU have the veto that matters in an election this November. Kansas is on a scary and dangerous path; a path that moves to create a permanent lower class of citizenry, by which those who have wealth get better access to all crucial services.
Kansas has cut funding for everything from pre-natal care to put strings around public education. We've moved to make LGBT uncomfortable in our state while telling those with special needs children that services will change.
The legislation this weekend drove a stake through the heart of teachers who are in the difficult position of arguing for IEPs, especially those of special needs children, who now will feel the pressure to side with administration and costs over a child for fear of their job.
But for today, I want to tell a picture in story and video, about how I experienced the capital this weekend.
I began really taking shots from the gallery early in the morning of the 6th. Thanks to some help from staffers and friends, most of Saturday was spent either in Overland Park (at a bit of a distance) or later in an office outside of the main areas in Topeka.
It didn't take me long to realize that so many of these people were burning money out of their own pocket books, fighting not just for their job but for kids. I had chipped in for food the night before, but for lunch, I took time to walk down to the Subway nearby and wipe them out. I have no problem saying: there were several house members who grumbled a bit that I forced Subway to make 31 footlongs in the middle of the day :)
The teachers, however, at least had something to know that parents gave a damn about their efforts.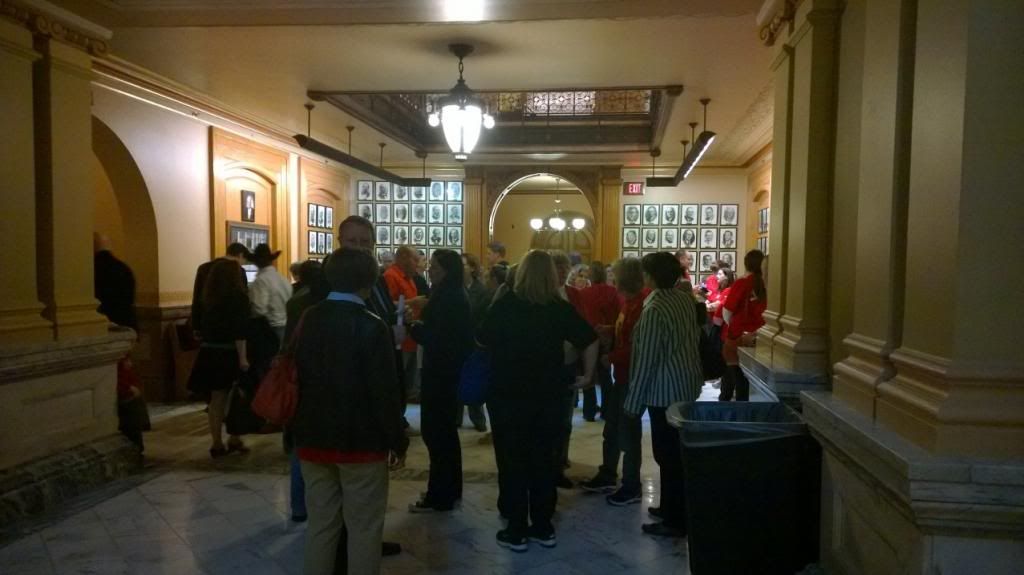 As the night wore on in Kansas, I took my first stab at getting into the gallery, to see first hand my tax dollars in action.
This is from later in the morning, in the Senate, which reconvened after a lot of waiting around.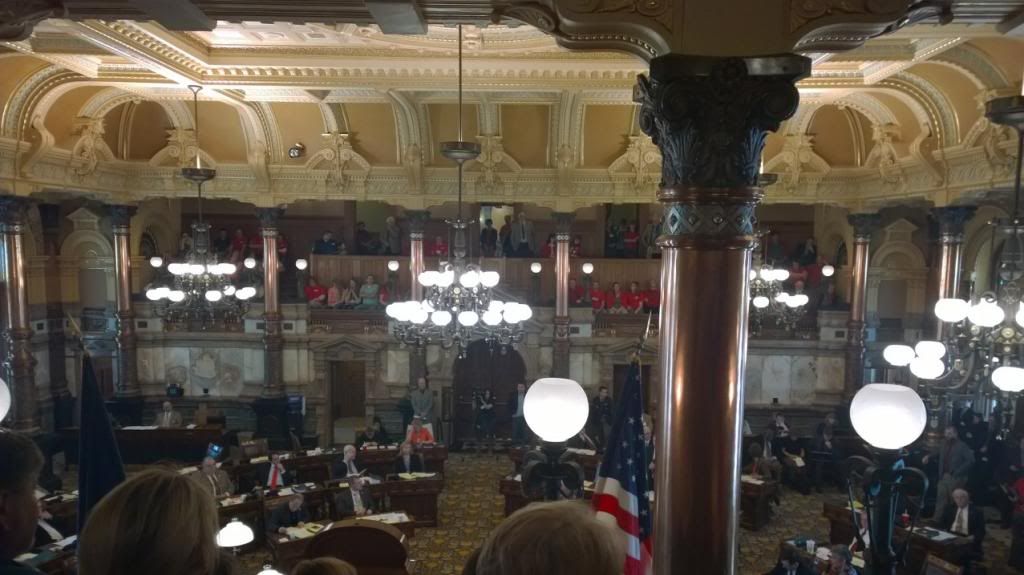 Senator Tom Hawk took the floor and gave an impassioned and heartfelt speech about the impact of teachers. Why teachers are not just the advocate for education, they are the advocates for the children they represent. I had time to talk to Tom the day before (Saturday) during a break, and I told him the story of our special needs son. This legislation allowed for people without a teaching certificate to teach. Degree only required. I told Tom: How long before Special Needs have no advocates? Poorly trained staff who can be hired cheap because they have a 'degree'? When Tom took the floor, I thought of that conversation and I knew that as an educator he 'got it'.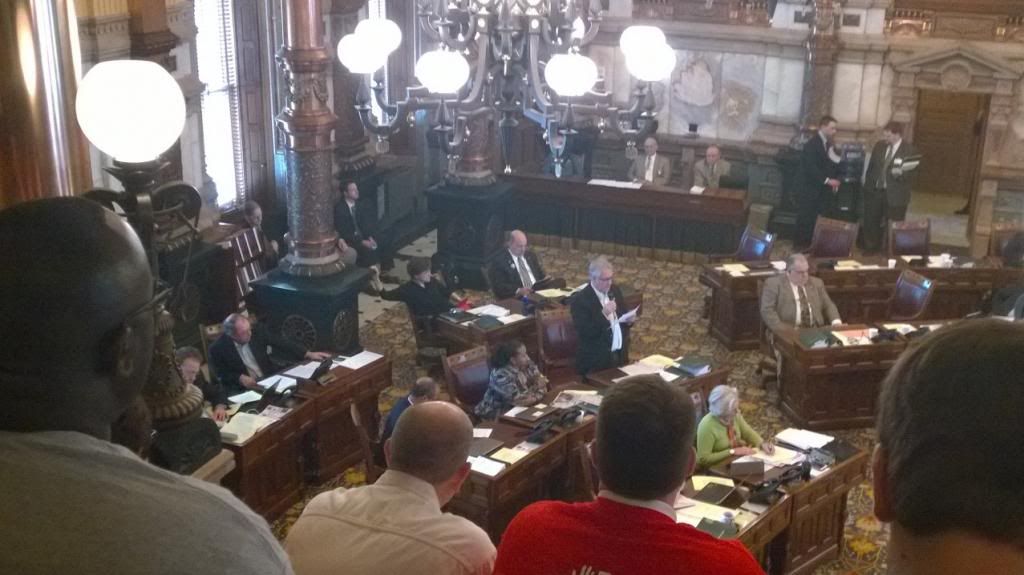 A short video of his defense:

When Senator Pat Pettey rose to speak on this legislation, she delivered a point by point dismantling of it. She walked through the legislation with knowledge and facts at her side. She asked critical questions of the body - questions that would go unanswered.
http://www.kslegislature.org/...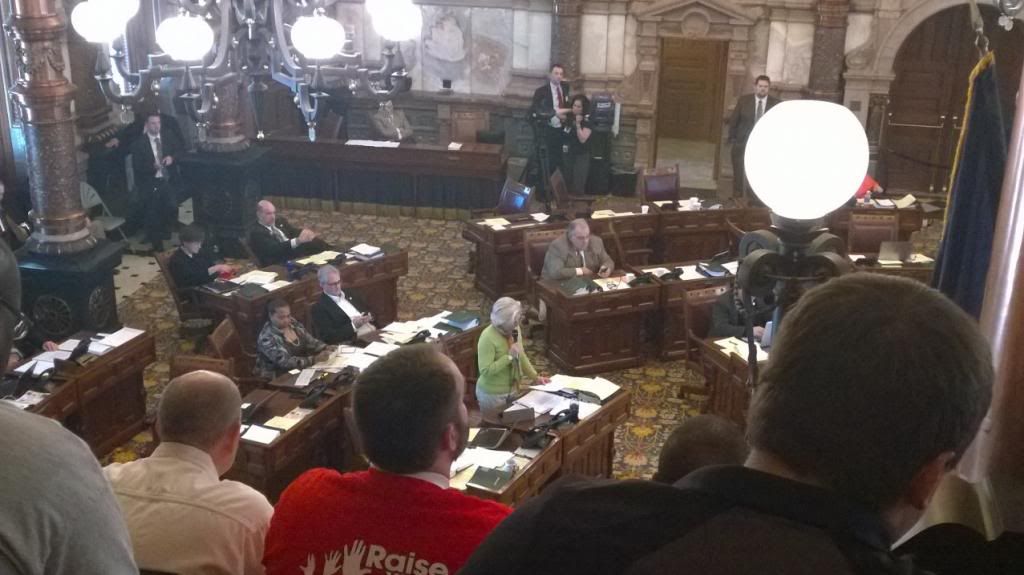 While Pettey mounted a blistering take down, armed with facts, Republicans largely left. Republicans began by huddling in the corners, and at this point, several staffers began letting me know that house members were still waffling.
Rather than listen to her fellow senator - or any democratic senator, the Republicans huddled in corners and grabbed cell phones. Below is Sen. Wagle, grabbing a phone call.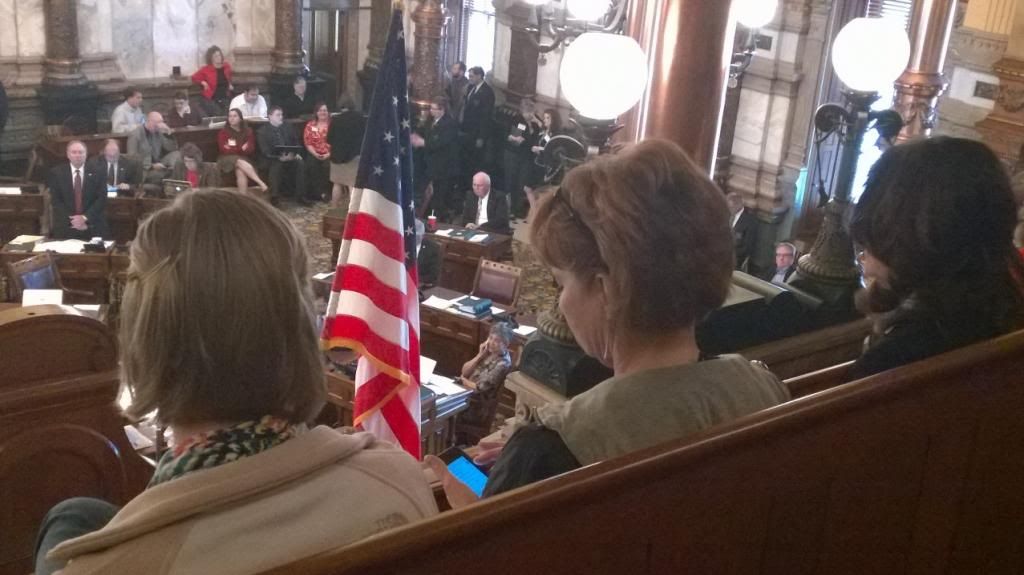 As the debate raged on, I was messaged to meet someone who had helped provide me information all day on the first floor. Checking out of the senate session, I took time to capture the Kansas teachers, camped in front of the senate. They had stayed there all morning.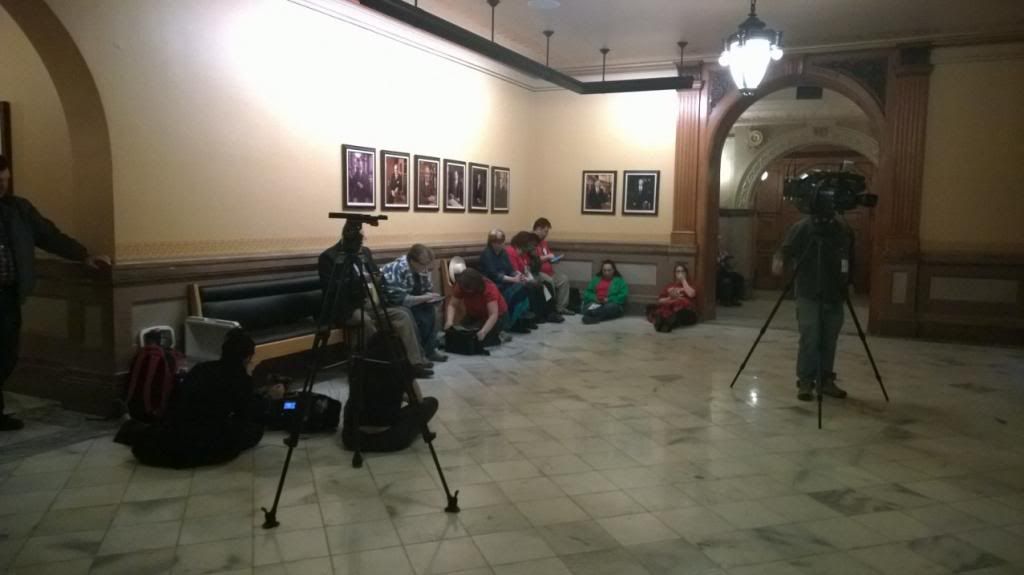 I met with the people who had been talking to me through the weekend and was informed that the senate debate would continue until they were sure they would get the votes in the house. I asked how close they were and at this point it was an unknown. Two staffers let me know dead on that their bosses had absolutely been pressured: vote with us or you're done. This was a litmus test. It wasn't just about voting with teachers this time, they told me. If they didn't make it out of a primary, it would mean someone far more conservative then their boss would likely win. Who would be left to put a stop to even more heinous legislation. Could you go 'all chips in' on this piece of legislation?
Word came down to me through a staffer that a vote was about to take place in the senate. The senate must have been assured they had the votes.
Despite the vote going against teachers, the teachers didn't boo those who voted against them. In one of the acts that reminded us why we were in the capital, teachers stood up and cheered every time a legislator who worked with them came out of the doors to the senate.

When legislators who were not with them passed by, Teachers raised their hands the way children in their classroom do to ask a question.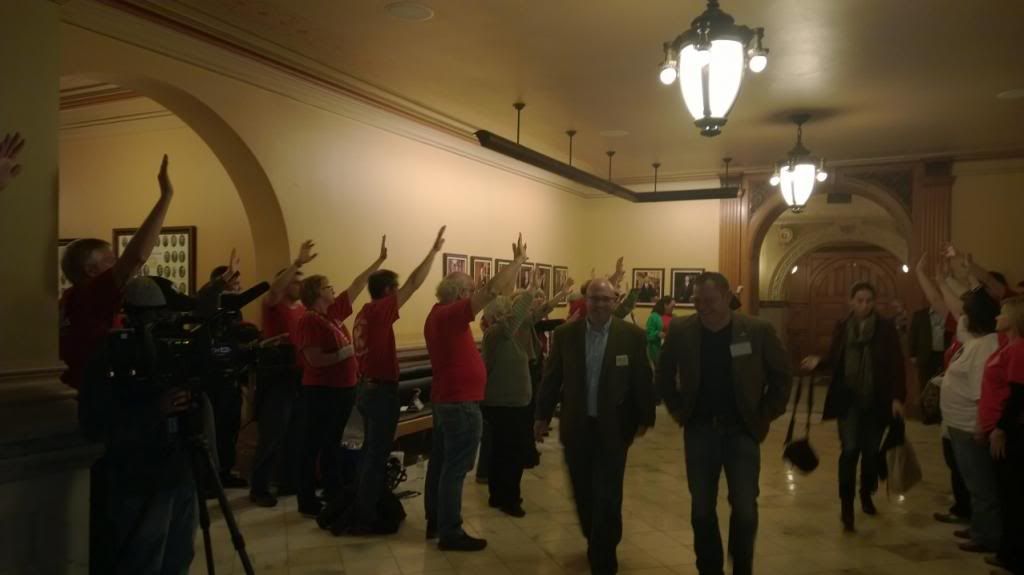 It was a beautiful piece of political theater. A reminder that we were all children once, that all of us had to raise our hand for attention. The teachers deserved their attention, attention they would not receive.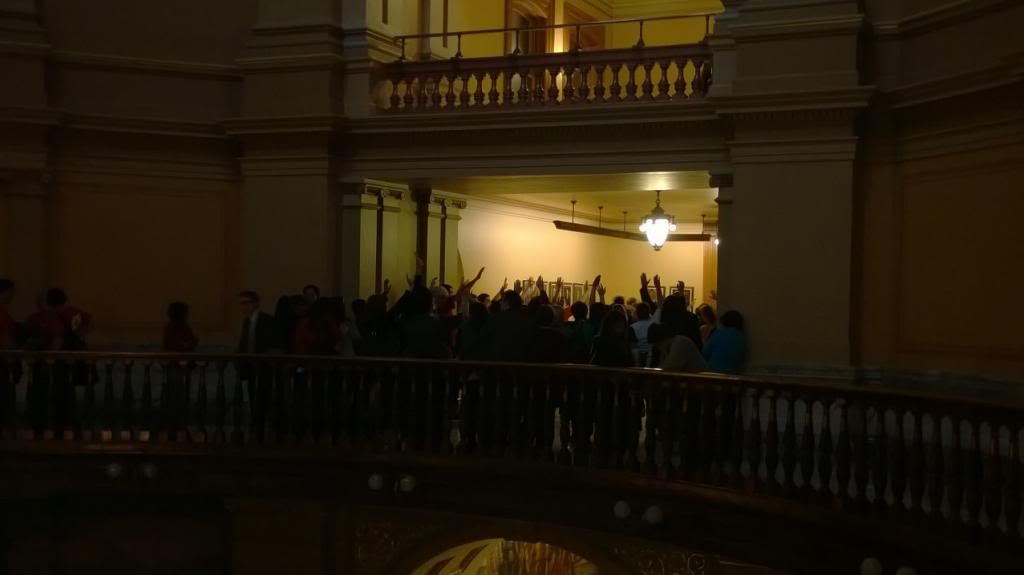 As the senate broke, KNEA held a quick meeting in the corridors of the building.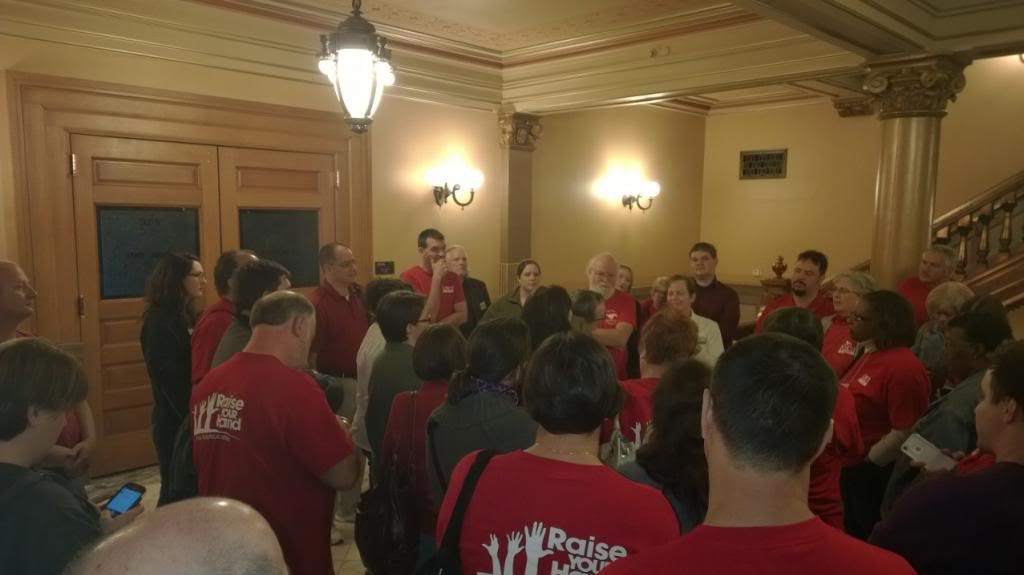 There would be a few hours break, just enough time to put teachers who had come from a distance in a difficult position. They could stay and fight for their jobs, or they could go home and teach their children. A lot of teachers were forced to leave. Many who were closer stayed. Why? Because they put the kids first, a subject that the legislators couldn't understand.
Over the next few hours I was getting text messages frequently about vote count. The session in the house would be pushed and moved. With an hour and a half to go, there was a brief moment of hope when some moderate Republicans became concerned about scoring issues with the tax incentive for corporations. It was a sliver of hope that we had. We had learned earlier in the day that at least 9 Republicans would flip pretty much 'no matter what' because the fear of facing a primary opponent with money was too strong.
By the time we gaveled into the house, though, the early head count was sent to me. Before a vote was taken I sat on the railing with KNEA, teachers and others and told them: This is going to be a bad beat. It will not be close. But you can take this beat and you can lump it, or you can take this beat and do something about it. You can be a voice for others. Be that voice.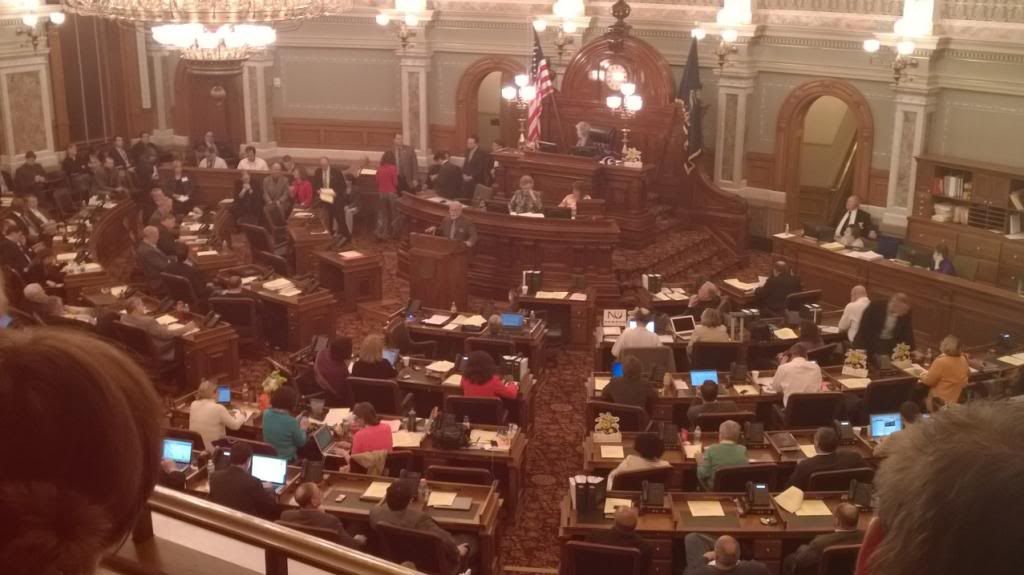 After a vote that went against them, House Democrats came out and spoke to the teachers, urging them to not forget this. To stand with their friends who fought for them this weekend. Don't forget what happened here. Don't let this continue.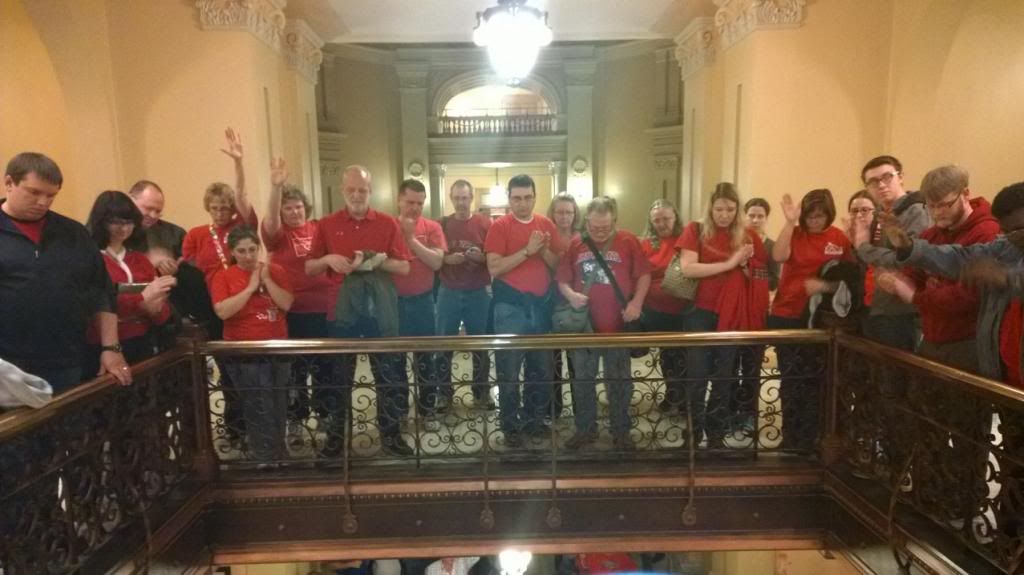 At the end of the night, Paul Davis, spoke to teachers.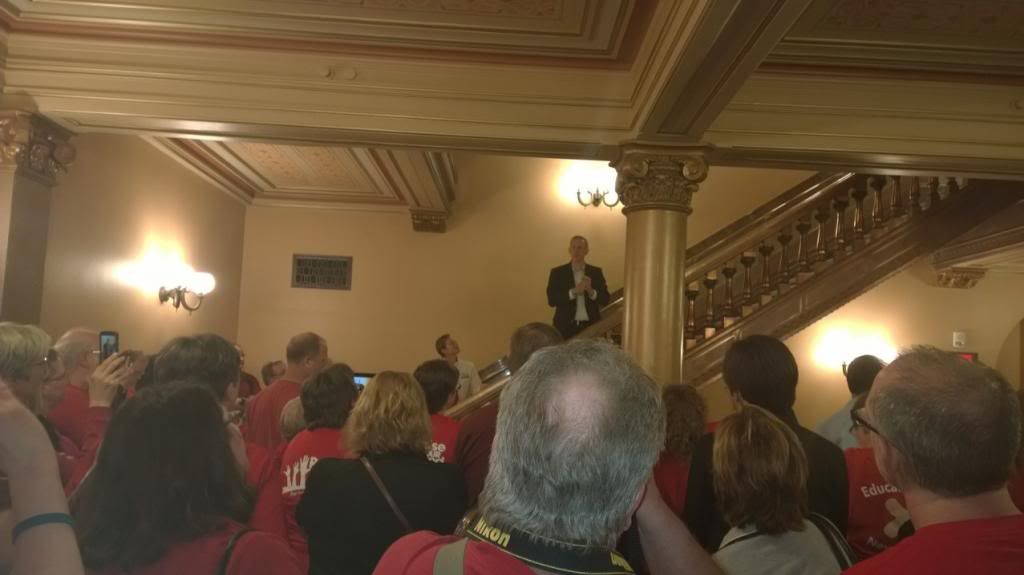 So, what happens next? Many of these legislators are returning home to talk to their people. A few of these meetings are close, some are far away.
Who feels like joining me in Gardner to see what for YEA votes have to say about this session?
http://www.senatorjulialynn.com/...
What happened this session?
We debated turn gay away.
We had a house member propose ending no-fault divorce.
We had more anti-abortion changes proposed.
We ended the right of city municipalities to set gun open-carry rules.
We tried to stop Google Fiber and small communities from investing in the internet for their citizens.
We took up a debate on removing flouride from our water.
We moved on policy that would make enforcement of federal wildlife standards a felony and noted we'd jail federal employees for trying.
We authorized money to sue other states for environmental cleanup to make sure we wouldn't have to.
And so much more. This was a session full of madness. Legislators who played from a playbook on conspiracies against the people. Political money threatened and cajoled to buy off politicians and to promote a doctrine over good policy.
This weekend in Gardner, Kansas their are four members who voted 'YEA' who are going to hear a few thoughts from me. They won't be the only ones. I've got time.
In a private message this morning from another parent of a special needs child:

" has been a godsend for my son. I don't know what we will do if they lose their job. He's backed me in so many IEPs. It'd be easy to fire him to save money. What can we do?"
I told Paul Davis: Billionaires have money. We have shoes. Billionaires have pressure. We have votes. Not everyone can be bought. Not against our own children, not against our fellow citizens, not against what is right.
Money doesn't win elections. Votes do.
New Polls point that out.
http://www.wibwnewsnow.com/...

A new poll released by the Public Policy Polling shows Governor Sam Brownback behind Rep. Paul Davis if the election were held today.

According to the poll, 45% of those polled said they would vote for Democratic contender Paul Davis while 41% said they would vote for republican incumbent Brownback. 14% said they were not sure.

886 registered Kansas voters were polled in the recent survey with Medicaid one of the topics asked about.

According to the Political Action group MoveOn.org, the poll also indicates that Governor Brownback's refusal to expand Medicaid in Kansas could hurt him, and other Kansas Republicans, electorally in 2014.

The survey found that 55% of Kansas voters think the state should accept federal Medicaid expansion dollars, and 39% of voters said they were more likely to vote for Paul Davis as a result of his position on Medicaid expansion.
The tide is turning. And we have no quit in us.
If you're out of state, and you've waited.. please, chip something to Paul Davis. He has worked with us on so many of these issues and deserves our support. Not just for those who live here, but because if unchecked Kansas will become the sinkhole that leads other states down this same path.