Yep, you've got that right.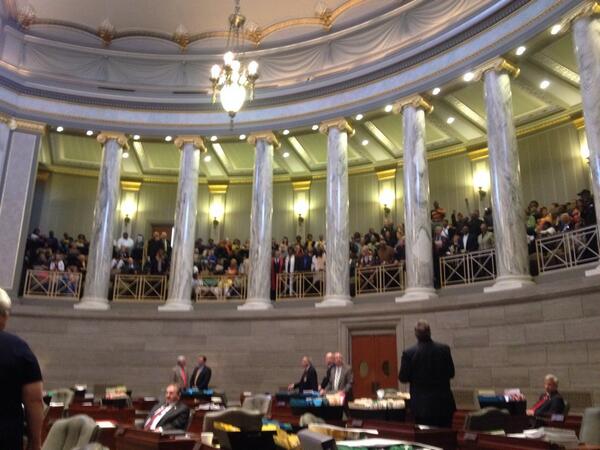 On a day where Missouri passed an irresponsible tax cut overriding a Jay Nixon Veto, elderly and others have taken to the capital to demand that Missouri take the Medicaid Expansion.
As a result, state capital police were called to help clear them out.

"We will not be silent. We will not be silent. The pain of Missouri speaks today. Today the misery of Missouri speaks. Today the pain the hurt the sickness the poverty of Missouri speaks," the protestors chanted. "Today we will not be silent."

As soon as the protesters erupted, Senate Majority Floor Leader Ron Richard, R-Joplin, called for the Senate to go into recess and ordered the gallery of the Senate cleared. During their removal, the group broke into song, singing that Missourians without Medicaid "shall overcome" the lack of health coverage, and representatives of different religions prayed for expansion.
You can hear them sing & chant here:
Beginning at 1:20, the upper gallery takes over and shuts down the senate, yelling "EXPAND MEDICAID"
And who leads this protest that continues at this moment? Missouri Reigious groups.

The emotional outburst from faith leaders came as the legislature has refused to expand Medicaid using federal funds. Conservative lawmakers have rejected the proposal, claiming it would be damaging to the state's coffers in the off years when federal funds for the program are reduced to 90 percent.
http://politicmo.com/...
(Follow more @ Twitter under the tag #moleg)
So.. think states don't know that they want Healthcare?
10:11 AM PT: While the protests started at 11:30 and somewhat cleared now, many still stay outside and some stay arms locked.

Capitol Police began removing protestors a few minutes after the protest began. Several senators remained on the floor through the demonstration.


"This is the people's house!" the protestors shouted as they were led out.

Protestor Marla Marantz of Springfield said the protestors are doing this to make their voices heard on Medicaid expansion.

Police are still trying to clear protestors from the gallery. About a dozen remain with arms locked.
http://www.news-leader.com/...
10:14 AM PT: Men of Faith led the chant.
Interesting image. Republicans asking for police to haul away ministers.
10:17 AM PT: Rob Schaaf, Missouri Republican refers to the protestors as lawless. Says nearly 35 arrested (rumor he's currently spreading)



Medicaid expansion proponents are lawlessly stopping the proceedings of the Missouri Senate screaming and yelling.


— Dr. Rob Schaaf (@robschaaf) May 6, 2014
10:20 AM PT: Missouri capital police have cleared all protestors from the building, but protestors are still standing outside.

10:24 AM PT: Clergy who were 'arrested' have been released.
10:26 AM PT: A great photo of the Clergy Standing up in the gallery to protest for their flock.
Thanks @womenrwatching1
10:33 AM PT: Some of the protestors, though removed, will still stay to talk to the reps.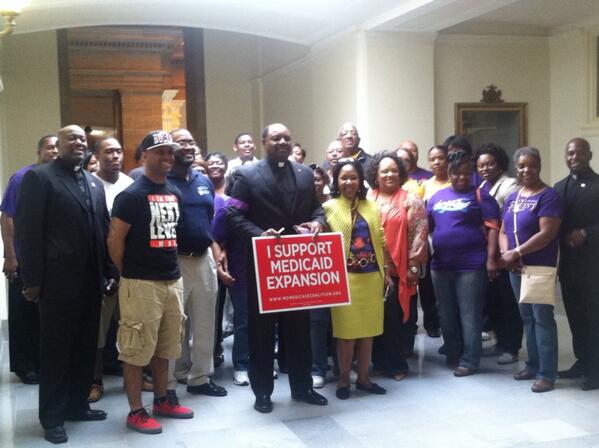 10:35 AM PT: This was the scene in the gallery: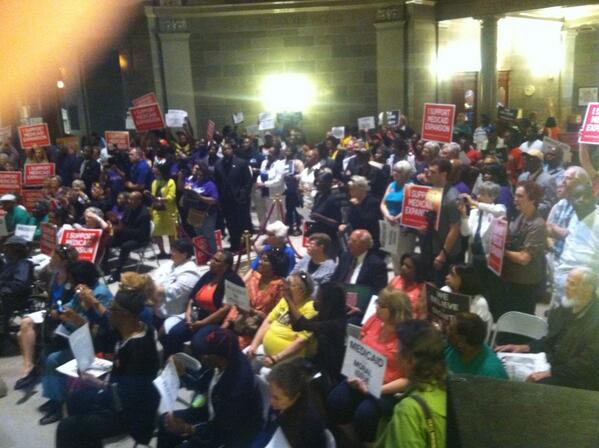 As Hundreds filled the hallways to sing in the support of those who would be arrested.
(Courtesy MedicaidMo)
10:41 AM PT: KC Star Put up a hurried editorial.
The GOP-dominated House on Tuesday morning also overrode the veto, with the help of a lone Democrat, effectively making it law over Nixon's veto.


In essence, supporters of expanding Medicaid assistance for lower income Missourians picked a bad day to show up at the state Capitol to let their voices be heard.

The group included a number of clergy who, for good reasons, want the state to accept federal funds that will allow better health care to be provided to more people.

Late Tuesday morning, people in the Senate gallery started chanting "Expand Medicaid now," according to press accounts.

The noise upset the sensitive ears of the senators. Eventually, Capitol police were told to remove the people.

So that's how it goes in the Republican-controlled General Assembly these days:

They vote for tax measures that ultimately will cut services to the people of Missouri.

Theyreward the rich more than the poor.

And then — when someone shows up to propose that lawmakers help those less fortunate — they are told to shut up.
10:45 AM PT: Missouri Jobs With Justice prays for senators to change their mind and expand medicaid outside of offices after being cleared from gallery.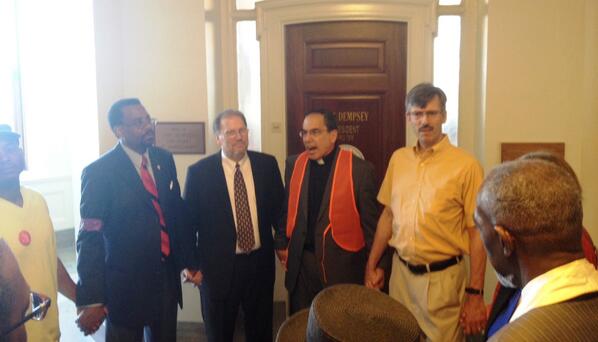 10:49 AM PT: Republicans lash out at the protestors, demand they be quiet.



MCD expansion proponents wasted 47 min, didn't help themselves, wrongly think their cause is more just than law-abiding citizens opposed.


— Dr. Rob Schaaf (@robschaaf) May 6, 2014
11:02 AM PT: @RevMolly refers to the meetings in the hallway as an 'old school revival'.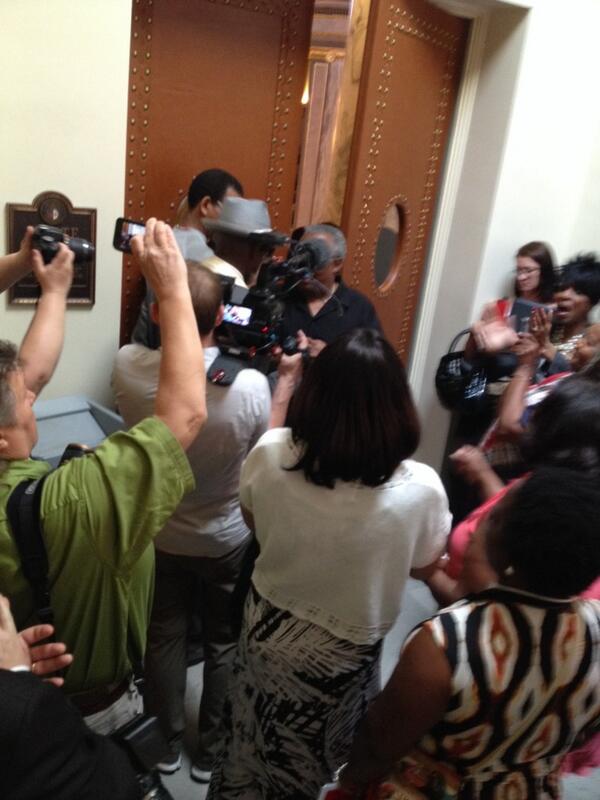 More than one state legislator has let me know that their traffic (calls to their offices) is up.. apparently several groups are making a push today to pressure legislators.
Whether or not this has any impact on the planned Impeachment debates tomorrow, who knows.
11:17 AM PT: Republican Ryan Silvey implies that because of protests, that is the reason why there will be no medicaid expansion.



After all of the progress we've made this session on Medicaid Transformation, it appears that unruly protesters have killed our chances.


— Ryan Silvey (@RyanSilvey) May 6, 2014
Damnit, we were almost ready to accept Medicaid expansion, but then those protestors changed the mind of all Republicans and we decided, if they are going to protest, they don't deserve medicaid expansion.
11:32 AM PT: Missouri News Leader has a link up with some video..
http://www.news-leader.com/...
11:41 AM PT: I've had one senator and two Missouri house members speak to me in the last few minutes. The issue, is that apparently there was a plan by which to end the filibuster against taking an up/down vote on accepting medicaid. The protest, in their view, 'invigorated' the people who held up the filibuster who will now no longer give up ground.
Since I've now heard this from basically an R and a D, I could see that. What a petty way to hold out, however. Because people protest, I'm willing to decide that I will hold up a filibuster.
Meanwhile, a (D) house member maintains my prior whip count that they don't believe Medicaid expansion would have passed if it had come to an up/down vote regardless.
I have Republicans telling me it was 'possible' that it would pass and that this whip count is 'wrong'.
Since those who are doing the filibuster and denying an up and down vote now feel energized enough that they will not relent, preventing this from ever coming to the floor, we will may not know.
11:50 AM PT: Here's some video taken of the protest:

(Thank you Chelsea)
11:58 AM PT: Well..
Missouri House now moves on to debate 'Paycheck Deception' legislation. We went from a morning of tax cuts and overrides to a protest over the lack of medicaid expansion and the day moves into how to break unions and public workers.
Want to know more about Paycheck Deception? Read this (underread) DailyKos Diary: 10 Things to Know About Paycheck Deception
12:04 PM PT: Away for a bit

I just received a phone call that there is a 'sympathy' protest occurring right now in Columbia, Missouri on this same ground.. I'm trying to find more out about it.
It has also been confirmed to me by House & Senate (R)s that they believe all impeachment debate is 'done' or will be quashed. One (R) Senator tells me: 'That is OVER.'.
I will be away shortly as we there is a Kansas is about to have a major story tonight.. today, on WIBW in Topeka, Gov. Brownback accused the FBI of conducting a 'federally smear campaign', and some local Republicans have taken to the airwaves to question whether or not this is a specific vendetta by the President against Gov. Brownback. (NOT a joke)
12:08 PM PT: Video in Full now:

12:11 PM PT: Moment of hope for the day..
Presented by Missouri Jobs With Justice.. 300k New signatures for early voting were presented to the Secretary of State today as part of the protest.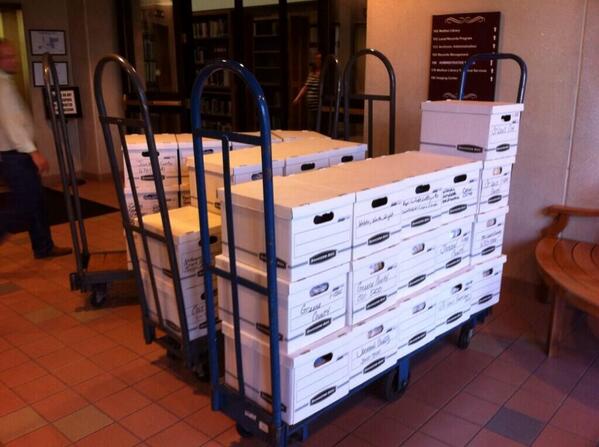 12:58 PM PT: Missouri house R tells me: we won't be bullied. This is dead now.
What a bunch of bullies those ministers were.
1:03 PM PT: Missouri Republicans are now debating a 72 hour waiting period on abortion services and other limitations.
For a lot of women who came to the capital to protest today, a day that features wild tax cuts, arrests of clergy, debate over busting unions and continues with enforced waiting periods might send the message of where their government is.. And really could be without governor Nixon.
2:30 PM PT: Missouri Republican offices are now telling constituents that this hardened those who want absolutely no expansion. But no one is naming all the names of those who are now 'more determined' to stop consideration.
2:55 PM PT: Jason Holsman, D KC area, talking about 72 hour waiting period on getting abortion, says 'did Missouri republicans learn nothing from Claire McCaskill's win?'
3:23 PM PT: Last update.. Have to meet with clients tonight. Thank you to Think Progress and Salon for the hat tip and reach out. I'm glad this story caught so much attention.
9:15 PM PT: Tonight on St. Louis Public Radio, Senator Dempsey @senatordempsey noted directly that this action 'significantly decreases' chance of any vote on Medicaid ever taking place.
Because, you know, the way to handle debates or being confronted with opposition is to just take the ball and go home.